Brand: Cadbury Dairy Milk Shubh Aarambh
Visuals of the campaign here /Embed 3 mins or shorter video of the entire process, with voice over/ sub titles
Brand: Cadbury Dairy Milk Shubh Aarambh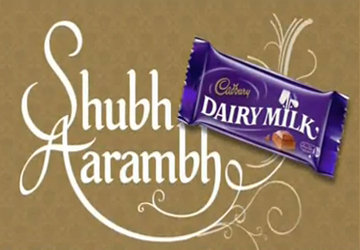 Opportunity/Occasion of engagement: Change in relationship status of the customer
Client brief: That Cadbury Dairy Milk (CDM) is the leading milk chocolate in India and has taken a positioning around the idea of "celebrating new relationships and beginnings". The brand also has a huge demographic affinity with online audience. The brief was to take advantage of the core nature of social networks where relationship announcements happen all the time. Position CDM in such a way that whenever there is an opportunity to make such an announcement, customers will have a brand connect with CDM Shubh Aarambh.
Strategy: Digital and social media lends itself closely to the notion of "relationships". One of the unusual tenets of new world of social media is the openness with which people announce a change in their relationship status — from 'Single' to 'In a relationship' to 'Engaged' and so on.
To use this activity — of change in relationship status — and link it to 'Shubh Aarambh' – the positioning taken by CDM – and help create an occasion for friends to keep track of status change of their friends.
Solution: We designed an app called 'Shubh Aarambh', to help users keep track of their friends updates and regularly track it. Barely 1% of updates are regularly tracked by users otherwise. The Shubh Aarambh app keeps the user informed of positive changes in his/her friend's relationship status, and can be programmed to automatically send a programmed/ customised message to the friend who has a celebration-worthy announcement. 
Results:
Huge positive buzz and impact online, majority of which came from viral and organic sources.
Large number of people and relationship changes tracked — over 86,500 people talking about it and 5,000+ new people became fans of the brand.
No negative fallout
---