Shaking off apathy with Save The Children
Save the Children is an international organisation working for children's rights in 120 countries. In India, they work across 15 states to ensure in the areas of Child Survival, Protection, Education, and Emergency Relief.
Our Task:
Child labour is culturally accepted and prevalent in India, estimates of the number of working children range anywhere from 13 – 60 million. Save the Children wanted to gather public support to help children caught in child labour in India.
We were tasked with shaking people out of their apathy and compelling them to take a pledge to discourage child labour in any form.
Our Approach:
The people that Save The Children wanted to reach are regularly targeted by multiple NGOs, Government agencies and private children's organisations with messaging that typically takes either the emotional route or focuses on hard numbers.
To be able to get people to even take notice of our messaging we chose to take the emotional route; only we were not seeking sympathy. We were after shock and outrage.
One of the things that made us very uncomfortable as we delved deeper into the problem of child labour in India was the fact that children involved in child labour are not just randomly hired by their employers and made to work. They are systematically purchased by these employers from their parents or intermediate agents. They are kept in dirty rooms, made to work for unspecified number of hours and paid extremely meagre wages for their work. The entire system involving purchasing and selling of kids worked like a shop.
We decided to create an online discount shop selling kids – Children For Hire.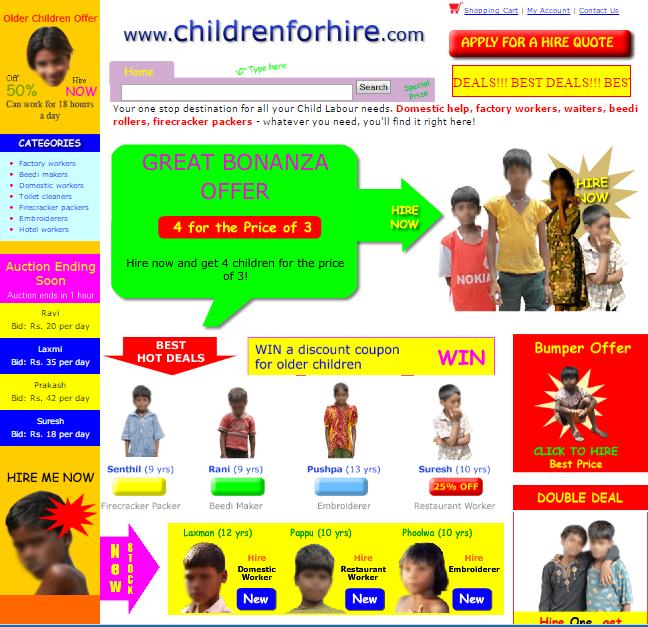 You could look at childrens' profiles, skills and experience. Once a user clicked on a profile, he/she was given an option to save the child or hire the child. Choosing any of the options took the user to the page where they could take the pledge to put a stop to child labour.
As soon as the site went live, it became one of the leading topics of conversation on social platforms – we had people expressing shock and outrage, asking for the police to intervene.
Over the coming weeks, 30k people took the Save the Children's pledge against child labour.
---